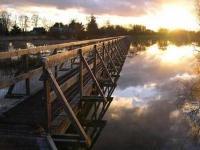 The marsh of Gannedel
It is one of the biggest marsh form Ille et Vilaine. The faune and flore's refuge, this natural area is a major ornithological reserve for migrators birds. During winter, la Vilaine river overflows and floods his valley. Our landscapes are transformed into a gigantic lake dotted with bare treetops, sometimes scattered, sometimes well aligned. During this period of the year, navigate on La vilaine river is forbiden because of stong water currents and the bed of our river is not visible. So, if a nice day comes along, the Gannedel marsh invites you to go canoeing to discover the heronry, the hunter's hideouts and the animals that inhabit this wilderness.
Our environment is changing, and the herons, egrets, goldeneyes, coots, and ducks can be spotted. Frogs as ragondins choose to cross our paths without warning! Be careful!
Spring keeps the water in the Gannedel marsh at varying heights. The vegetation starts again with the flowers and the wild plum trees, first the white ones and then the pink ones. Then the yellow irises emerge from the ground. Leaves fill the branches of the trees and the soft green grass spreads over the large meadow. The herons are brooding there, just behind the gannedel harbour. A few little egrets stain the willows with white herons. A walj to the end of the footbridge to see and hear a host of small birds that will delight your ears with melodies.
Then the summer begins with the sale of hay from the meadow, the ballet of the mowers and the balers. A great game of hide and seek between the walker and the animals. The squirrels may offer you a festival of jumps and a frantic race to the tops of the trees. With luck and a lot of patience, equipped with binoculars or a telescope, you will be able to detail the blue throats.
It takes 1h30 to 2h to walk around this marsh.